REVIEWED BY SEVERIN THEINERT 
for UNCUT GRASS 
February 2020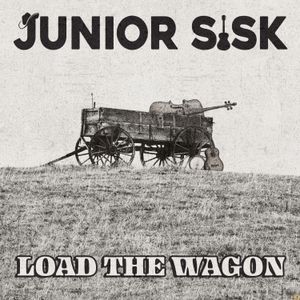 I am the proud owner of every single Junior Sisk album and I'm always excited when I hear about a new release from him. Especially since he's with Mountain Fever Records. You can't go wrong with "Mountain Sisk" or "Junior Fever." In my opinion, both are setting standards for the bluegrass music industry these days. Junior has been around the music for quite awhile. He played in bands like "Lost & Found" and "BlueRidge" just to name two. We all know him for his work with his band "Rambler's Choice". So, it was exciting to find that he had changed directions once again and is releasing solo records. Last year's release was a solo project too, but it wouldn't be Junior Sisk if he didn't journey forward with a step deep into the bluegrass tradition, as he has done with Load The Wagon. 
His new band line-up consists of Jonathan Dillon on mandolin, Gary Creed on bass and vocals, Heather Berry Mabe contributing vocals and guitar, Tony Mabe playing the banjo and vocals and Douglas Bartlett on fiddle and vocals. Junior himself is playing the guitar as usual, and of course singing the lead vocals. It would have been a waste of talent if Heather didn't sing some lead on the record, too. They've created something traditional but fresh, something old but new. They left behind everything you don't need for a bluegrass record. Sisk took eleven songs out of the great bluegrass songbook and beyond and gave them a stripped down and pleasantly dry arrangement that borders on folk, old-time and gospel ever so tastefully. And always displays a great respect for the song itself and the era it was written in. 
Junior Sisk opens with "Get In Line, Buddy" by Bill Yates of the Country Gentlemen and courageously raises the bar for himself and his new band. But man – they all cross this hurdle with ease. It's pure joy to listen to Junior sing this one. Followed by Red Smiley's "Best Female Actress Of The Year," a slow, witty waltz for those who don't know the song. And again Junior's voice is absolute and heartfelt at the same time. The entire band delivers a great ensemble, working the songs together, as well as sublime individual breaks. 
"Hooked On Bluegrass," by J.R.Satterwhite, naturally is more modern. An up-tempo declaration of love for what he's doing. Followed by the lovely "Poor Sister Cry," by Thomas Porter & Copper River Band. The first single "Lily Dale".... !Awesome! I've only heard the version by Willie Nelson and Darrell McCall before now, which is a slow sentimental country ballad, but this is a fresh, up-tempo bluegrass gem, as if it was written just for this band. 
I could easily go from one superlative to the other and so….I will: Next up is a beautiful, folky, gospel track called "I'm Going There". There is one single guitar and absolutely stunning gospel, harmony vocals in the chorus. Followed up by the brilliant title track "Load The Wagon '' another one written by J.R.Satterwhite. It comes a long fast and galloping with a clawhammer banjo that adds perfectly to the old-time feeling of the fiddle. 
One more track (besides the songs from Flatt & Scruggs or A.P. Carter) I just have to mention is "He Died A Rounder At Twenty-One" by Jimmy Skinner. This is my personal highlight of the record. It's only Junior with his guitar and singing. And boy he can sing! 
The record closes with a Johnson Mountain Boys song, "Mend This Heart Of Mine". Hard-driving banjo licks, fabulous mandolin and fiddle breaks, an extraordinary singer with superb harmony vocalists – everything bluegrass is all about. This record is great all over. It is so complete and full and still doesn't overwhelm the listener because of its modest and light arrangements. Every musician contributes just what's necessary but with such a great feeling and warmth. This record is going to be big for 2020!